Managing color
In Penpot there are two main tools to manage color: the color picker and the color palette.
Color picker
Here you have the anatomy of the color picker: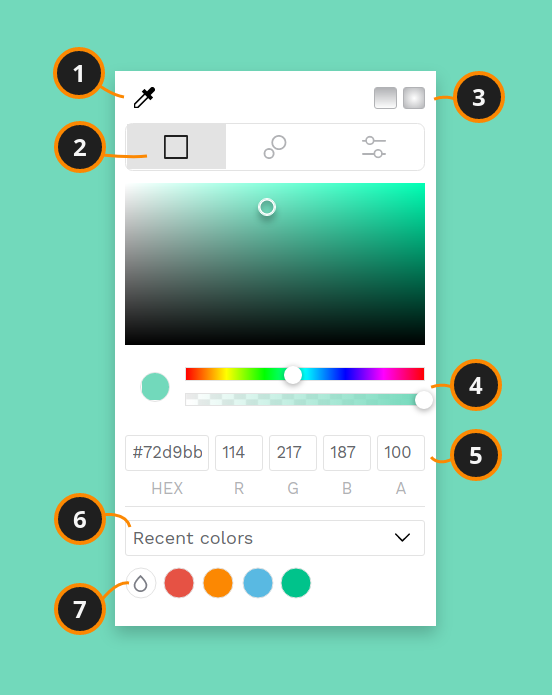 Eyedropper - Allows you to pick any color of the objects at the viewport.
Color profiles - Select between RGB, the Harmony Wheel or HSV.
Gradients - Set linear or radial gradients.
Sliders - Easily manage color and opacity.
Values - Set precise color values of red(R), green(G), bylue(B) and transparency(A).
Shortcuts - Switch between recent colors and libraries.
Color palette - A quick launcher of the palette with the selected library.
Color Palette
The color palette allows you to have a selected color library in plain sight. Use the menu to easily switch between libraries.

There are three ways to show/hide the color palette:
From the main menu at the top left navbar.
Pressing the color palette button the toolbar.
Using the color palette launcher at the color picker (see previous section).
Use the menu to easily switch between libraries.
Switch between big and small thumbnails sizes.
Applying color from the palette
Apply color to fill: Just select the shape and click on the desired bullet in the color palette.
Apply color to stroke: PresAlt (or ⌥ in mac OS) while clicking.
Selected colors showcase
All of the colors that are contained within a selection of objects are showcased at the sidebar so you can play with the colors of a group without the hassles of individual selection.